Precision Microdrives and Haptic Feedback
Looking for our Haptics range? View our main Haptics hub here.
Our Competences In Haptic Feedback
Our automated testing procedures allow us to fully characterise our motors to a level way beyond other vibration motor manufacturers. Our detailed datasheets help customers make an informed choice about the best components for their system. This greatly reduces their design risk, whilst also saving time and associated costs.
Having built an impressive testing infrastructure that feeds our quality control process and online datasheets, our latest facility upgrade covers the longevity of brushed vibration motors. This level of information has previously not been available from manufacturers and we are at the forefront of testing eccentric rotating mass vibration motors and linear resonant actuators. See our Application Bulletin on MTTF and FIT rates for further details.
With regular updates to our Tech Blog, Application Bulletins and Integration Guides, and other static content we offer a wealth of information aimed at helping our customers. We cover a range of haptics topics, including customer applications or solutions to frequent enquiries, and for those who still cannot find an answer our dedicated team of engineers are on hand to help with your design questions and queries.
Detailed Datasheets
Precision Microdrives is a BSI ISO9001 certified company, demonstrating our commitment to continuous improvement and professional excellence. With offices in London, Hong Kong, and China we are able to support our customers throughout the entire development process with low quantity prototyping orders, through to competitive pricing on large production supply.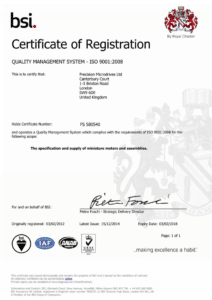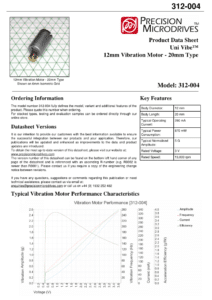 Our datasheets are the most comprehensive in the industry. They are a product of our testing competencies outlined above and are available for download for all of our product pages. Due to the nature of electromechanical components, performance can vary slightly, even between models of the same batch. For this reason, we attempt to fully characterise our products on our datasheets.
This is achieved by providing both specifications and characteristics. Specifications explain the limits of the component, such as Maximum Start Voltage or Maximum Start Current. If the vibration motor or linear resonant actuator performs outside of these limits then it is deemed to be faulty.
On the other hand, our characteristic values aid the design process by offering details about typical performance. For example, vibration motors usually start to turn at voltages below their Certified Start Voltage does not often draw the Maximum Start Current. Adding values such as Typical Start Voltage and Typical Start Current helps customers better understand our products.
In addition, we perform tests dedicated to analysing haptic performance. For true high-end haptic feedback, our datasheet section Typical Haptic Characteristics should be taken into consideration. Here you will find Typical Lag, Rise, Stop, and Active Brake Times. We also provide advanced haptic characteristic graphs as a result of our Precision Haptic™ range qualifying.
There are further details in the "What Makes a Good Actuator?" section on the Adding and Improving Haptics page for an explanation of how to interpret and improve these values. You can also organise our vibration motors by Typical Lag Time using this link.

Comparing vibration motors can be difficult. To ease the process, we convert Typical Vibration Amplitude to Typical Normalised Vibration Amplitude. Due to their different strengths, vibration motors are tested on differently weighted test sleds. The target mass has a big impact on the measured vibration.
For example, a particularly large and strong motor might be tested on a 500g sled which measures 5 G of vibration strength. A smaller and weaker motor may be tested on a 100g sled which also produces 5 G because the target mass is much lighter and easier to move. To compare the motors directly, we normalise the vibration strengths. The Typical Normalised Vibration Amplitude is the resulting value which determines how much vibration the motor would produce on a 100g mass – making a direct comparison between motors easy.

Currently, no other haptic actuator supplier offers the same level of detail as Precision Microdrives.
Order Quantities – Prototyping To Production
All of our ERMs and LRAs are available in 1+ quantities, making sourcing a variety of actuators for prototyping and testing very easy. Low quantity pricing is available online in British Pounds, Euros, and US Dollars. The online checkout system allows for quick ordering and payment, accepting Visa, MasterCard, or American Express. Alternatively, companies can select to pay via bank transfer. We also regularly accept purchase orders by email or fax, or simply call our office to place an order over the phone.
Budgetary pricing for 10,000 and 100,000 can also be found on product web pages, and for an accurate quotation on specific quantities, our sales team can be contacted by email or phone.
Using the same supplier from initial testing through the product's lifecycle ensures predictable performance and behaviour. Earn your customer's trust by producing reliable equipment that enhances your reputation within your market. We can supply quantities anywhere between a single unit to 100,000 – supporting niche B2B companies in addition to larger companies operating in B2C markets. We are experienced in working directly with customers who have in-house assembly and liaising with assembly sub-contractors.
However you order, whatever the quantity, Precision Microdrives can support your haptic feedback development and production.
Range Of ERMs And LRAs
We stock a wide range of vibrating actuators. Orders of items in stock can be dispatched on the same day, with express shipping options available.
Simply visit our product catalogue to see an overview of all available products, and click the 'see specs and prices' button for a closer look and the opportunity to download the datasheet or order online.
Remember we also supply companies who use our actuators for a wide range of applications – not just haptic feedback. If you want to make the most out of your haptics device check out the other pages in our haptic feedback content using the chapter navigation at the bottom of the page.
We have split our motors into several different product ranges based on the applications they are best suited for. For haptic feedback products, see the Precision Haptic™ range which includes actuators qualified to work with Immersion's licensee drivers and software.
Range
Example Product
Example Applications
Pico Vibe™
303-102
307-103
310-118
Small vibration alerting products, handheld communication devices, mobility devices, massagers, body-worn devices
Uni Vibe™
312-107
325-100
334-800
Vibration alerting, automotive, mechanical aid, adult toys, game controllers. Greater vibration strength is important, space available for larger motors
Dura Vibe™
910-10F
912-101
Handheld products, process improvement / mechanical aid. Applications that prioritise longevity over haptic performance
Precision Haptic™
C10-000
306-109
308-102
High-performance haptic feedback. All present in the Haptic Feedback Evaluation Kit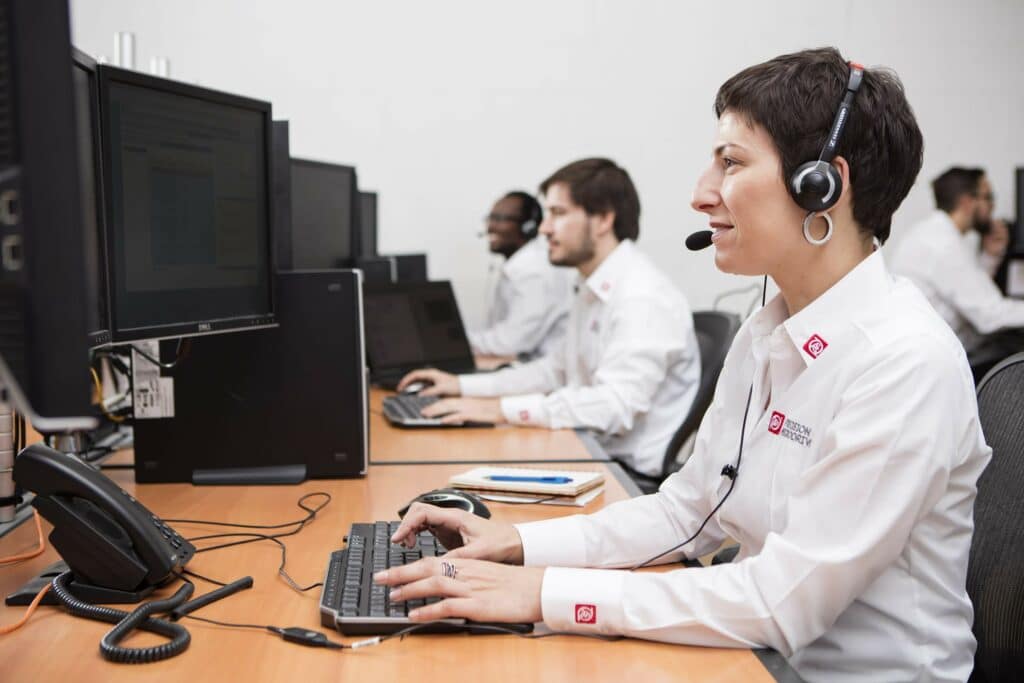 Get in touch
Speak to a member of our team.
---
Motor catalogue
Looking for our products?
Reliable, cost-effective miniature mechanisms and motors that meet your application demands.
Newsletter
Sign up to receive new blogs, case studies and resources – directly to your inbox.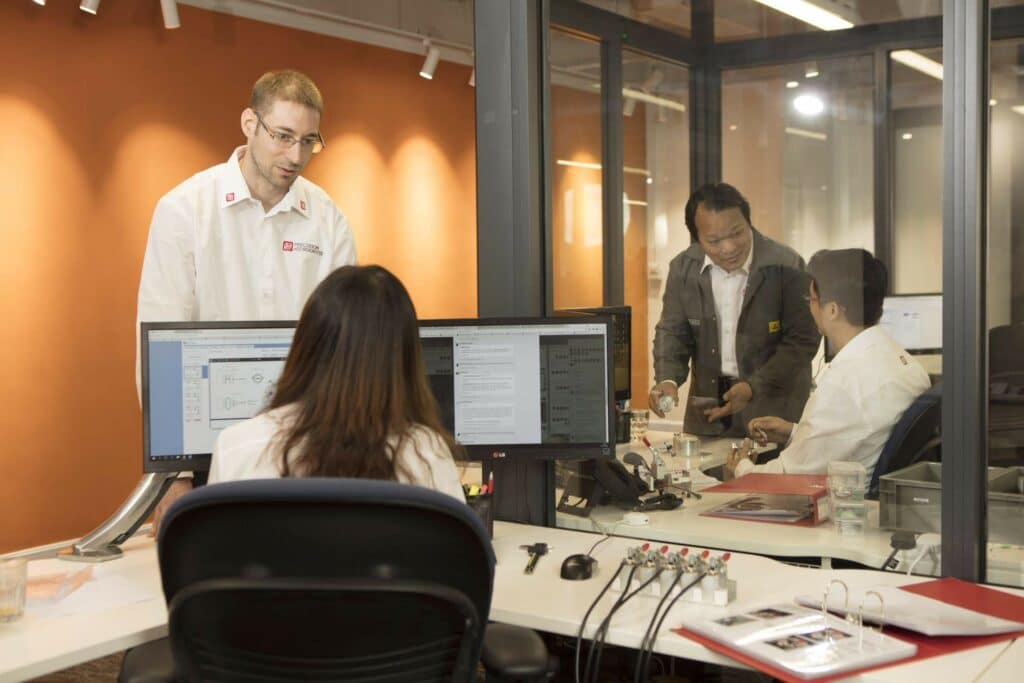 ---
Discover more
Resources and guides
Discover our product application notes, design guides, news and case studies.
Case studies
Explore our collection of case studies, examples of our products in a range of applications.
Precision Microdrives
Whether you need a motor component, or a fully validated and tested complex mechanism – we're here to help. Find out more about our company.