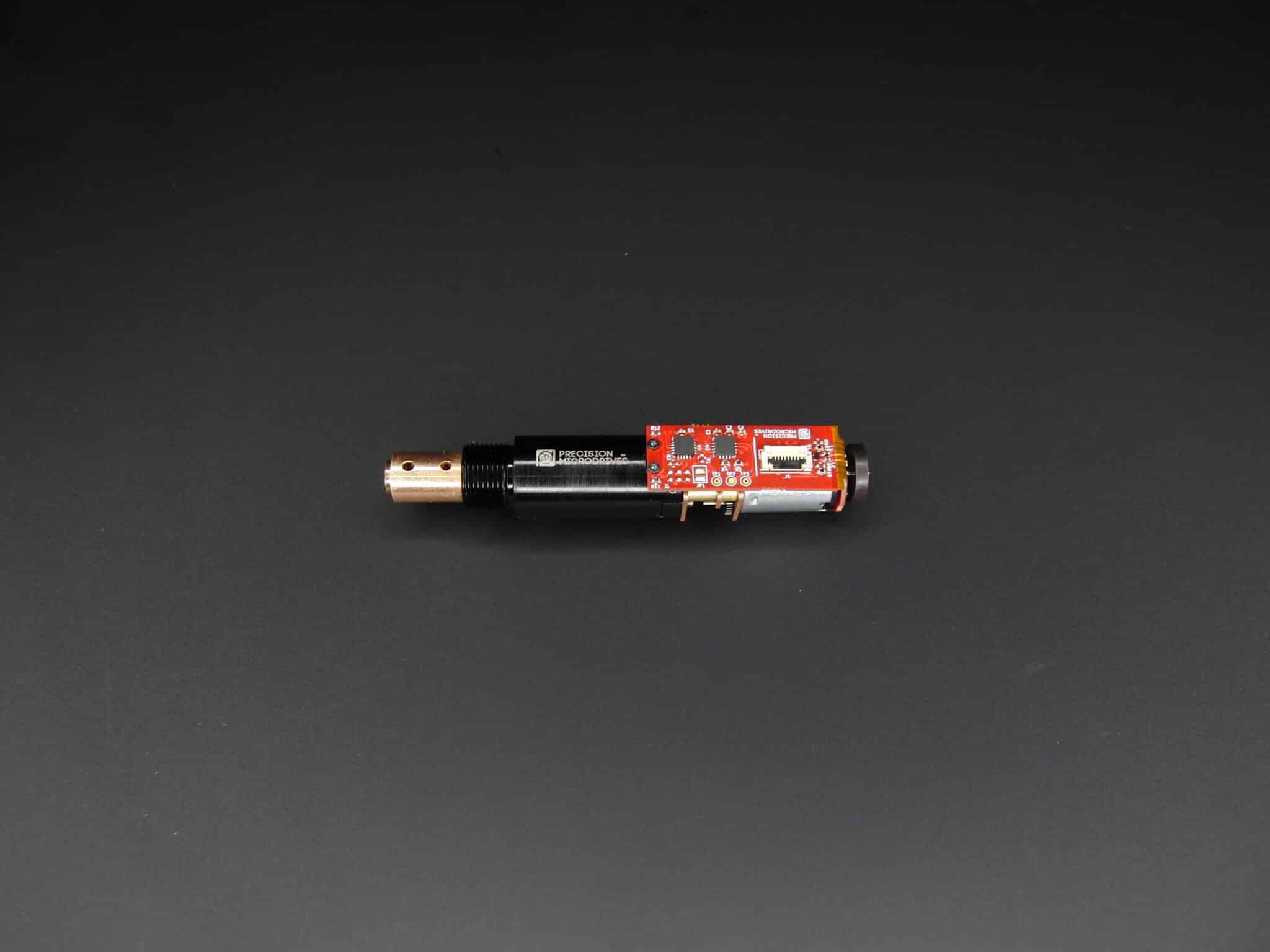 Linear actuators
Precise, reliable, and highly customisable
OEM Linear actuators designed for application
Precision Microdrives designs and manufactures miniature linear actuators to order, for a wide range of high value applications. We offer proven reference designs based on leadscrew, cam and rack and pinion actuation methods.
We support our customers from the initial specification all the way through to mass production with manufacturing lines in-house.
Typically, we supply OEM manufacturers of instruments or other applications, and build actuators we supply into their final device. For this reason most of our actuators are supplied without consumer enclosures – they are instead protected by the enclosure of the final machine.
We can produce linear actuators with barrel sizes of up to Ø30 mm, with throws of up to 200mm, and a linear forces of up to 150N. We can also offer validated designs with repeatable position accuracies as high as 2~3 microns.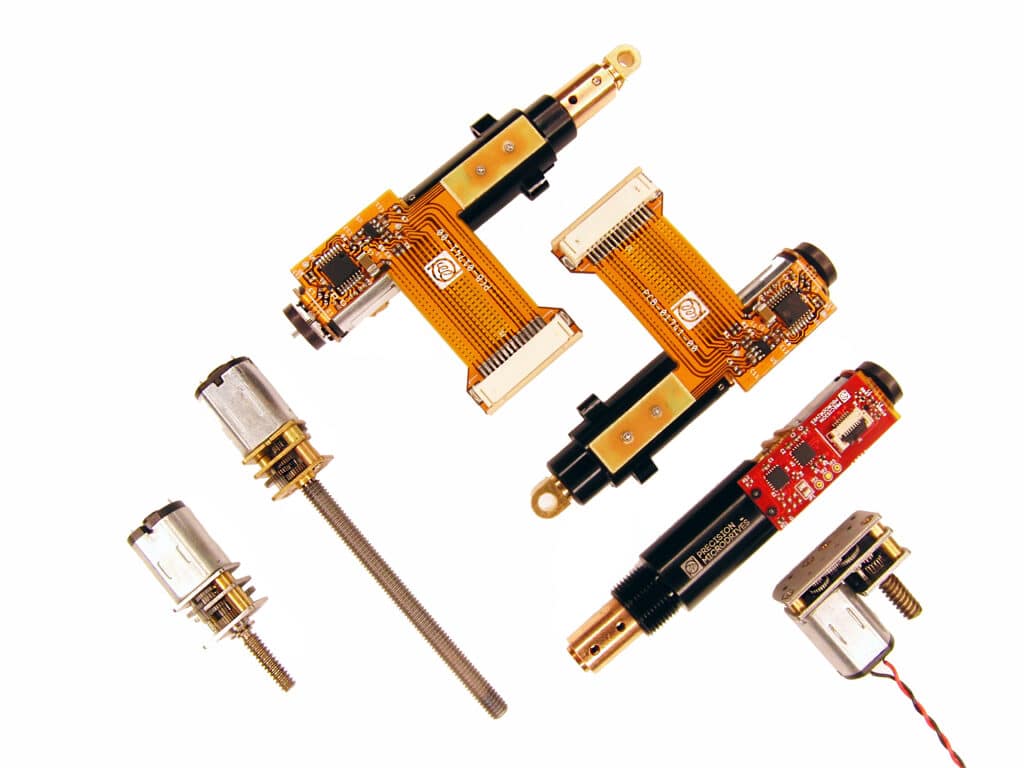 Speak to an engineer
Our expert application engineers will understand your requirements, and quickly propose a cost effective linear actuator solution for your device.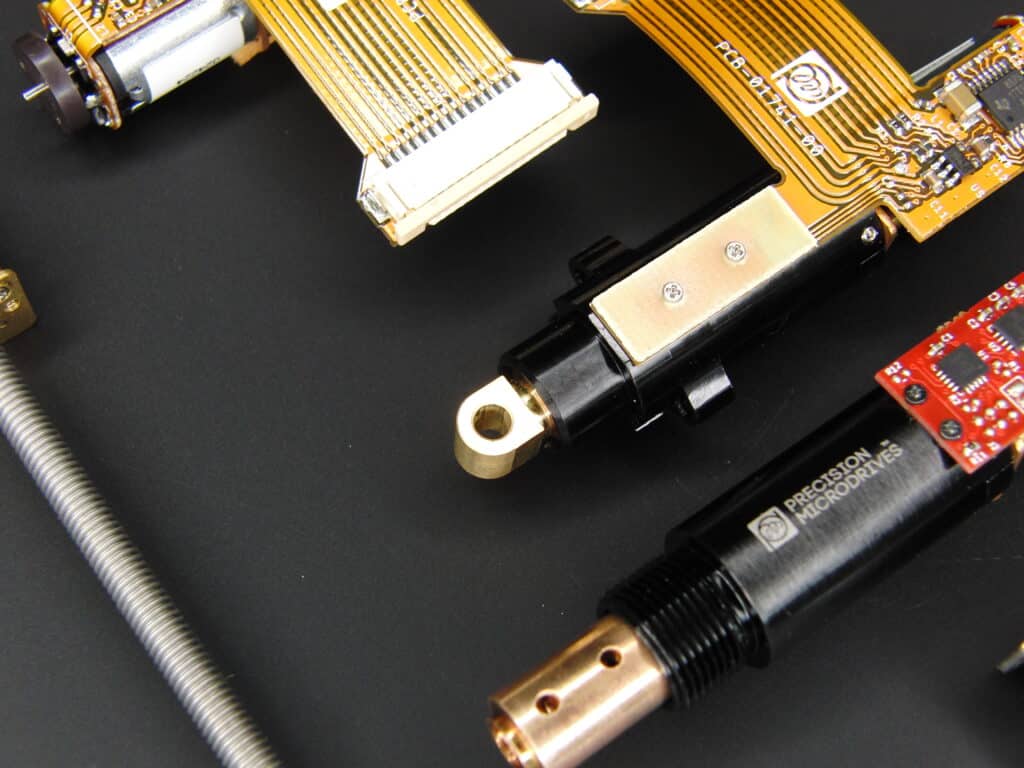 Powered by three main DC motor technologies
Our three types of motor drive use brushed (iron cored and coreless) motors, stepper motors, and brushless motors. This offers you a wide range of price points and performance lifetimes.
Integrated sensors, encoders, drivers, and motion controllers
All designs can be enhanced with sensor and controller electronics. From basic end-position sensors, to complete integrated motion control systems, we can offer you both cost effective or full feature solutions.
Customised quickly for each application
Our designs are built from a library of proven solutions. Therefore we can adapt and combine existing designs quickly. This will speed up the development cycle for your application.
---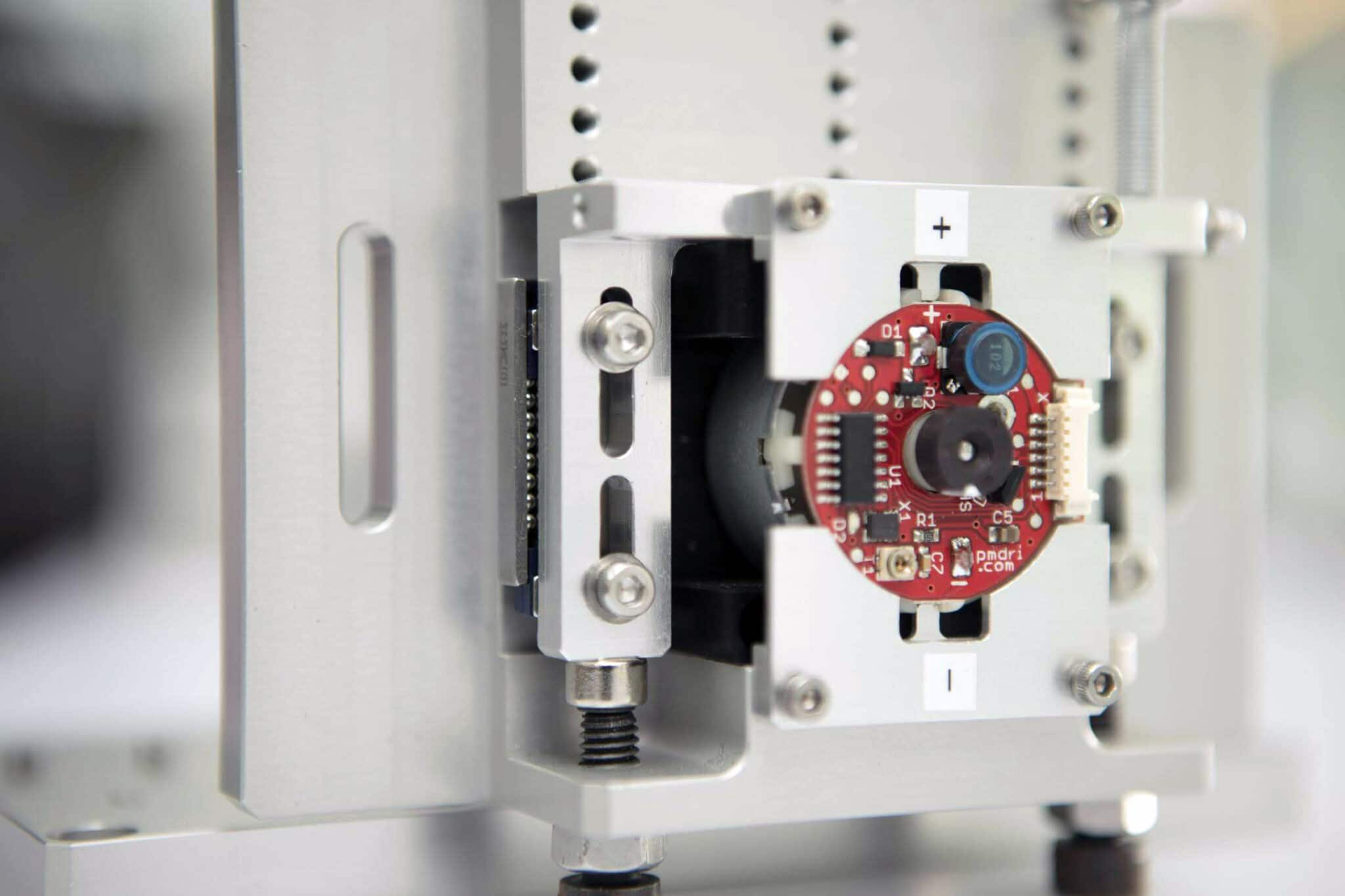 ORDER SAMPLES
Motor catalogue
Reliable, cost-effective miniature DC, Gear and Vibration motors that meet your application demands.
DESIGN SOLUTIONS
Example 12mm linear actuator reference design
In the last decade, we have designed a large number of linear actuators using a variety of leadscrew, cam and rack and pinion mechanisms. However in the past 3 years, we have delivered a number of projects based around an off-the-shelf 12mm spur gear motor leadscrew design. We present some details of example units, and typical customisations below: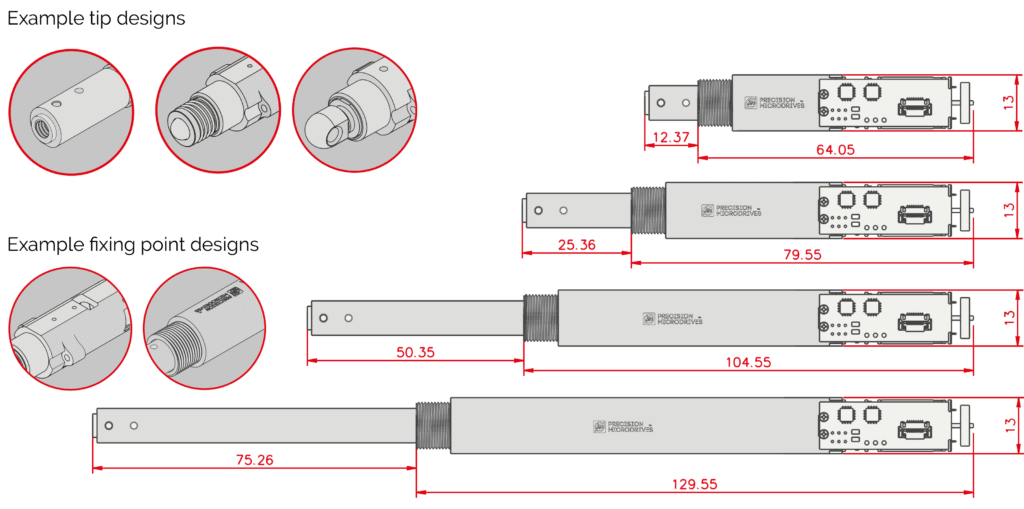 Example key specifications for 12mm example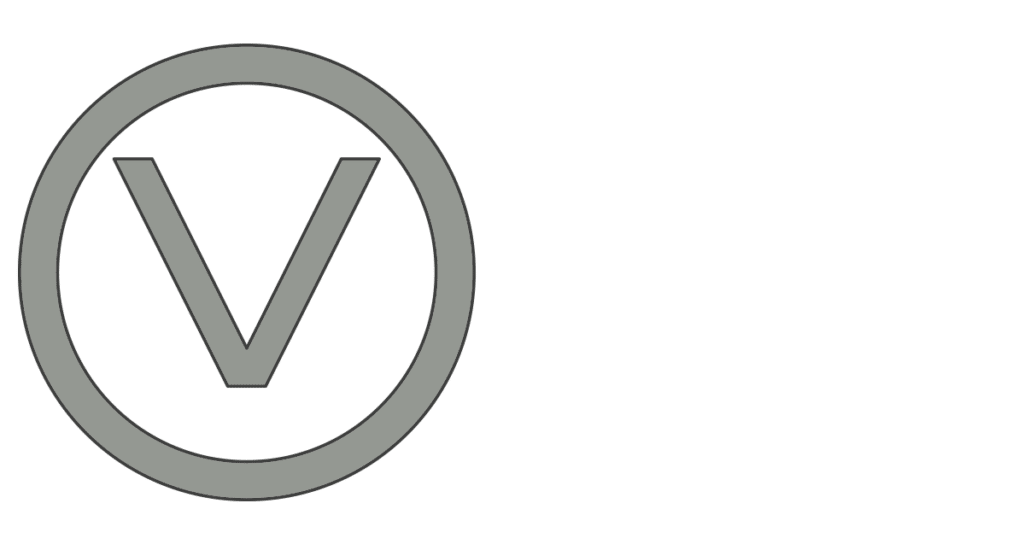 Drive voltage
3 ~ 12v.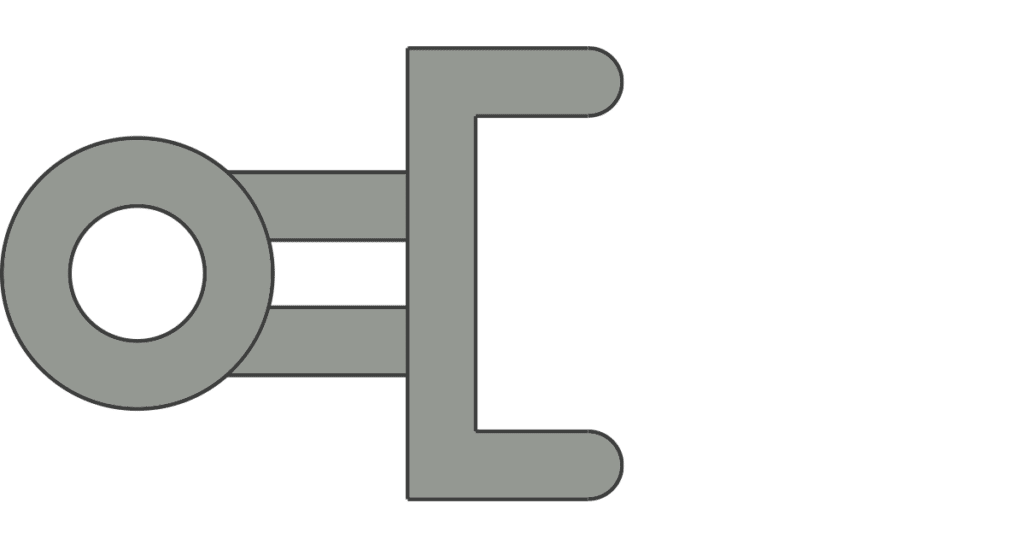 Stroke
Between 10mm and 75mm.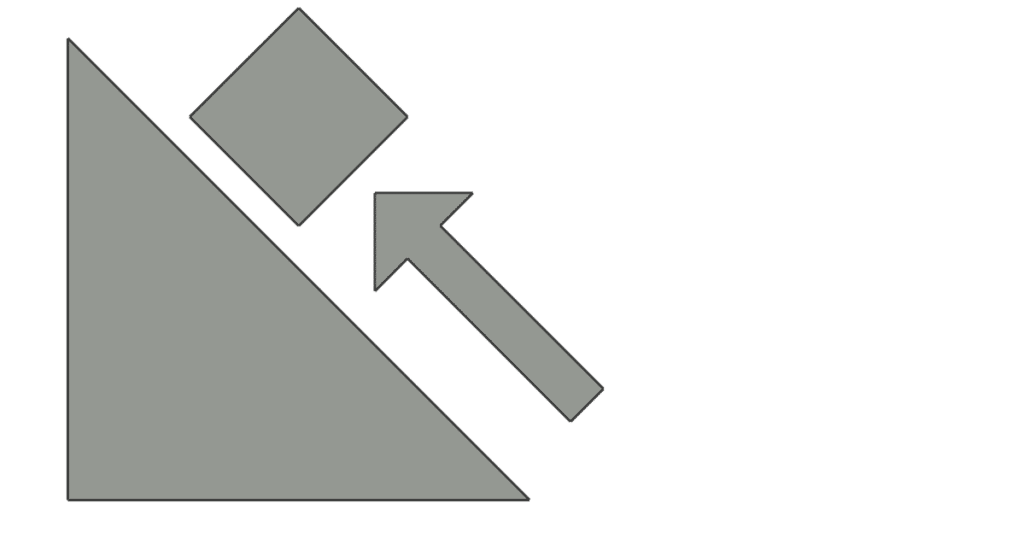 Force
Dynamic max 40 ~ 60N.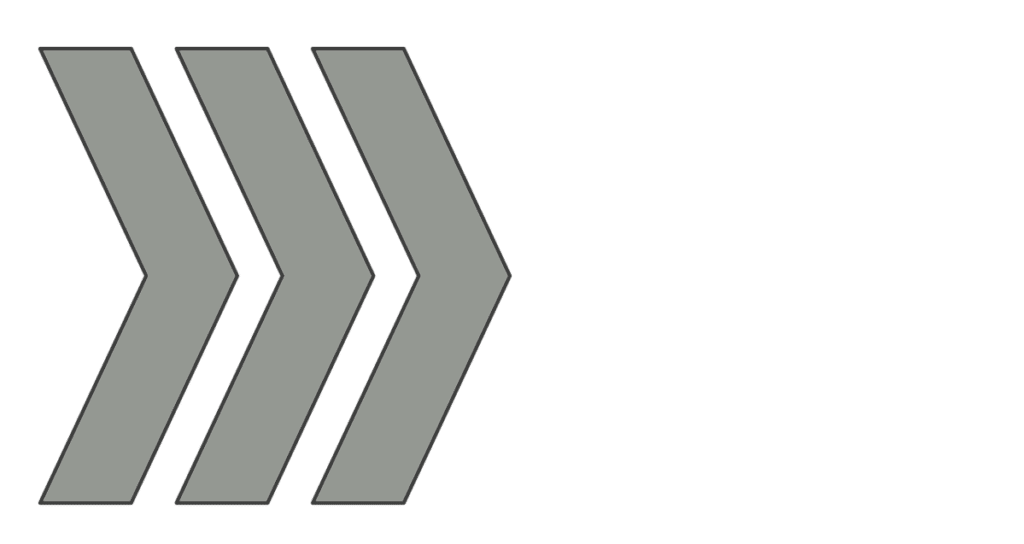 Linear speed
Up to 15mm / second.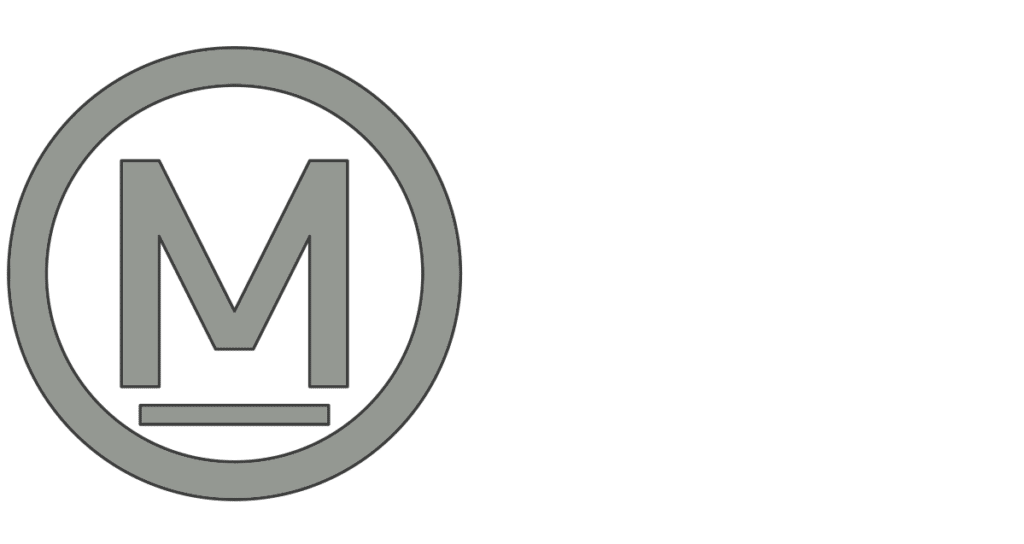 Motor technology
Typically brushed DC motors, with options for brushless or stepper motors.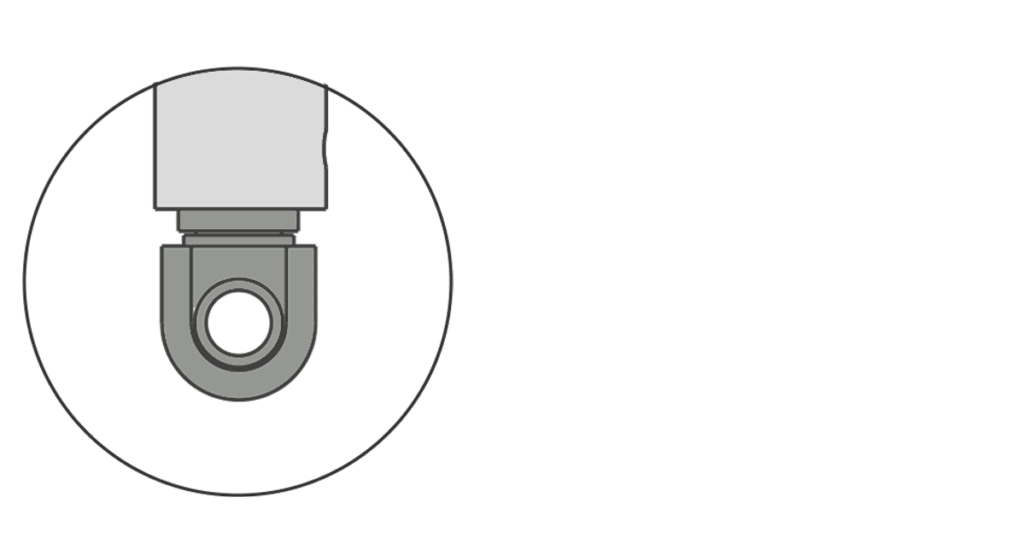 Tip design
Designed to specification. Examples include custom brackets, eyelet, or spring loaded tips.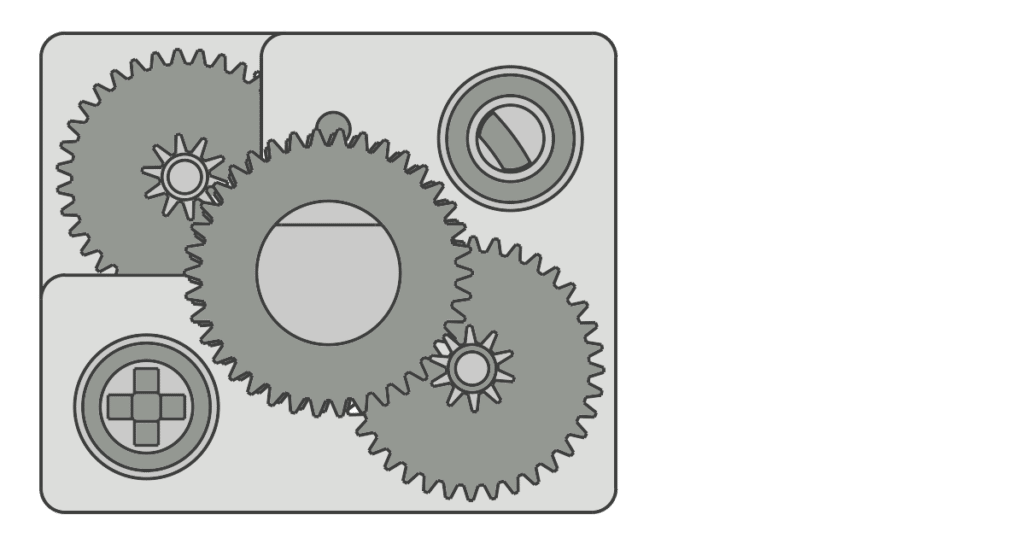 Integrated gearbox
Typically metal spur gears, with options for metal planetary gearboxes for higher load applications.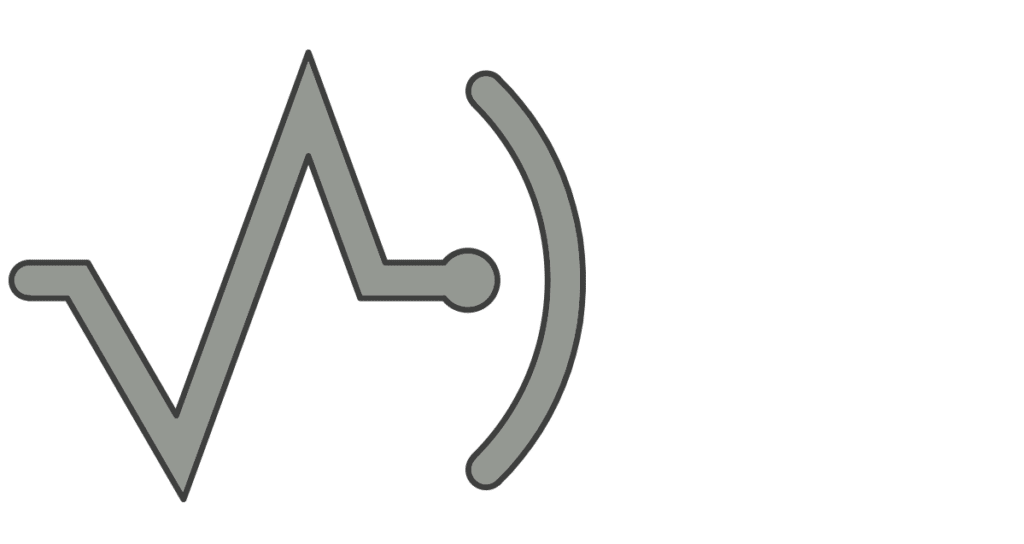 Sensors
Optional homing sensors, limit sensors, and optical or linear, incremental, or absolute encoders.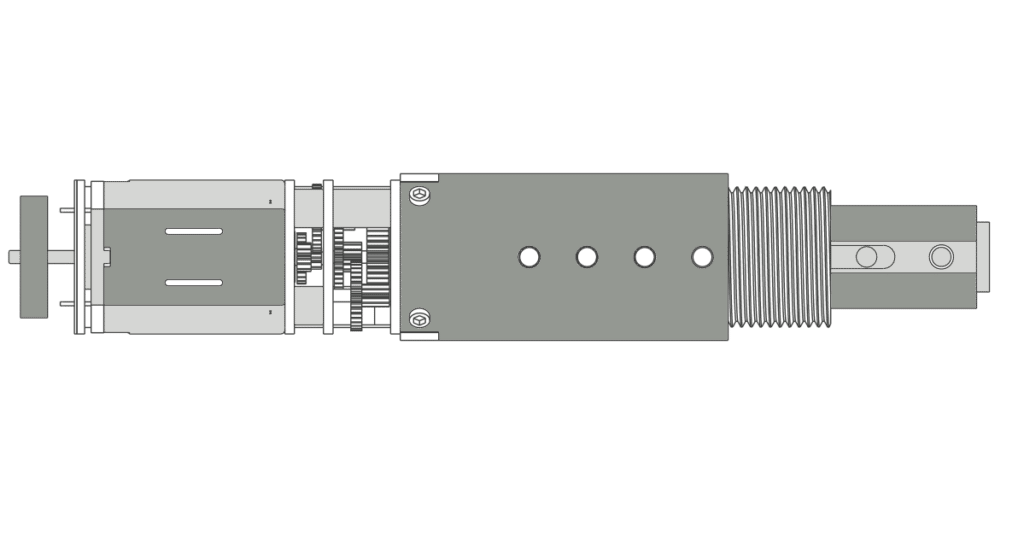 Construction
Aluminium body, stainless steel leadscrew and bronze extension shaft.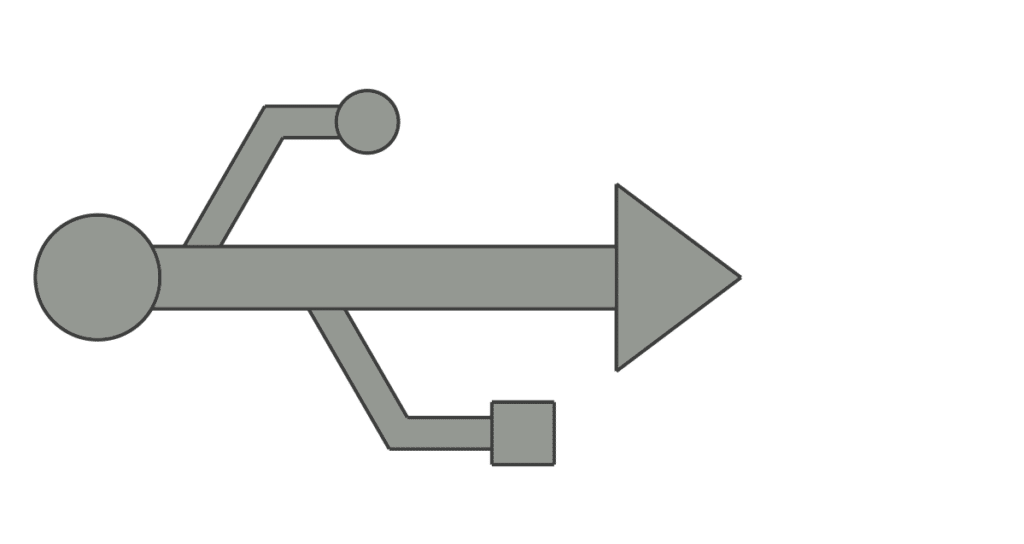 Electrical connections
Options of an onboard full motion controller, 'dumb' h-bridge with integrated current monitor, or motor / sensor / encoder only connections. Choice of flex / fpc, and other connectors.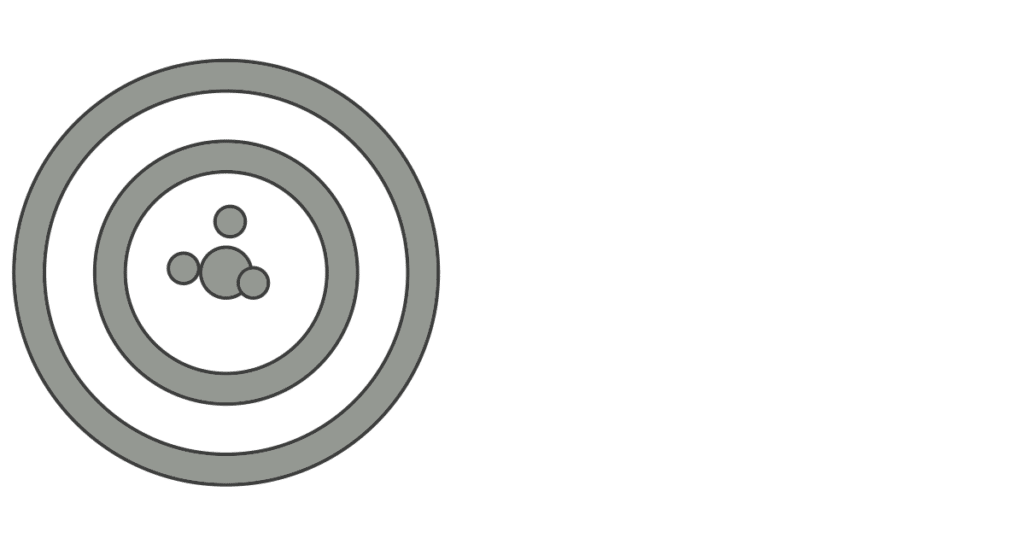 Repeatable linear accuracy
25~50 µm.
(When driving to a position under 1N load, using the integrated encoder).
Higher accuracy designs are possible.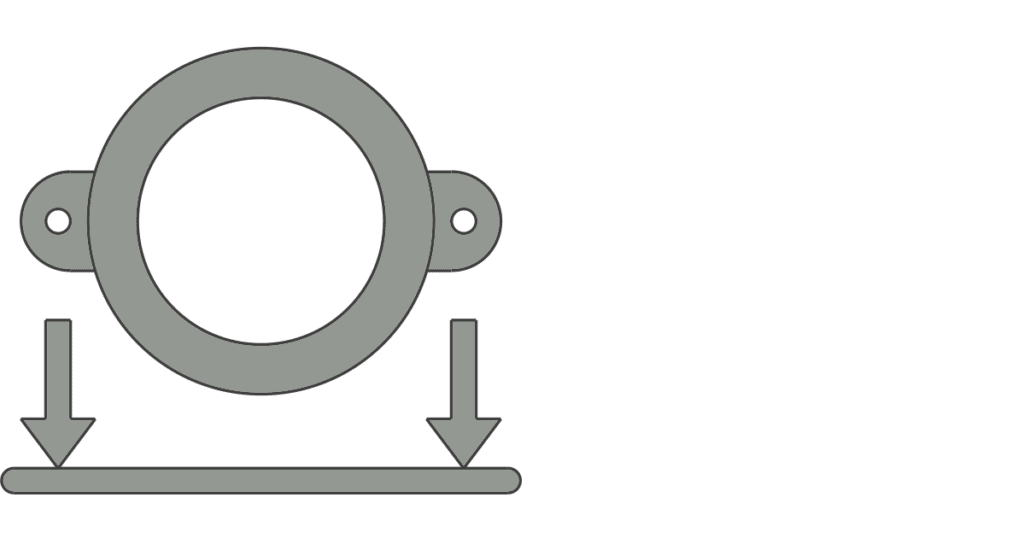 Mounting points
Designed to specification. Examples include screw threads, mounting ears, or brackets for horizontal mounting.
---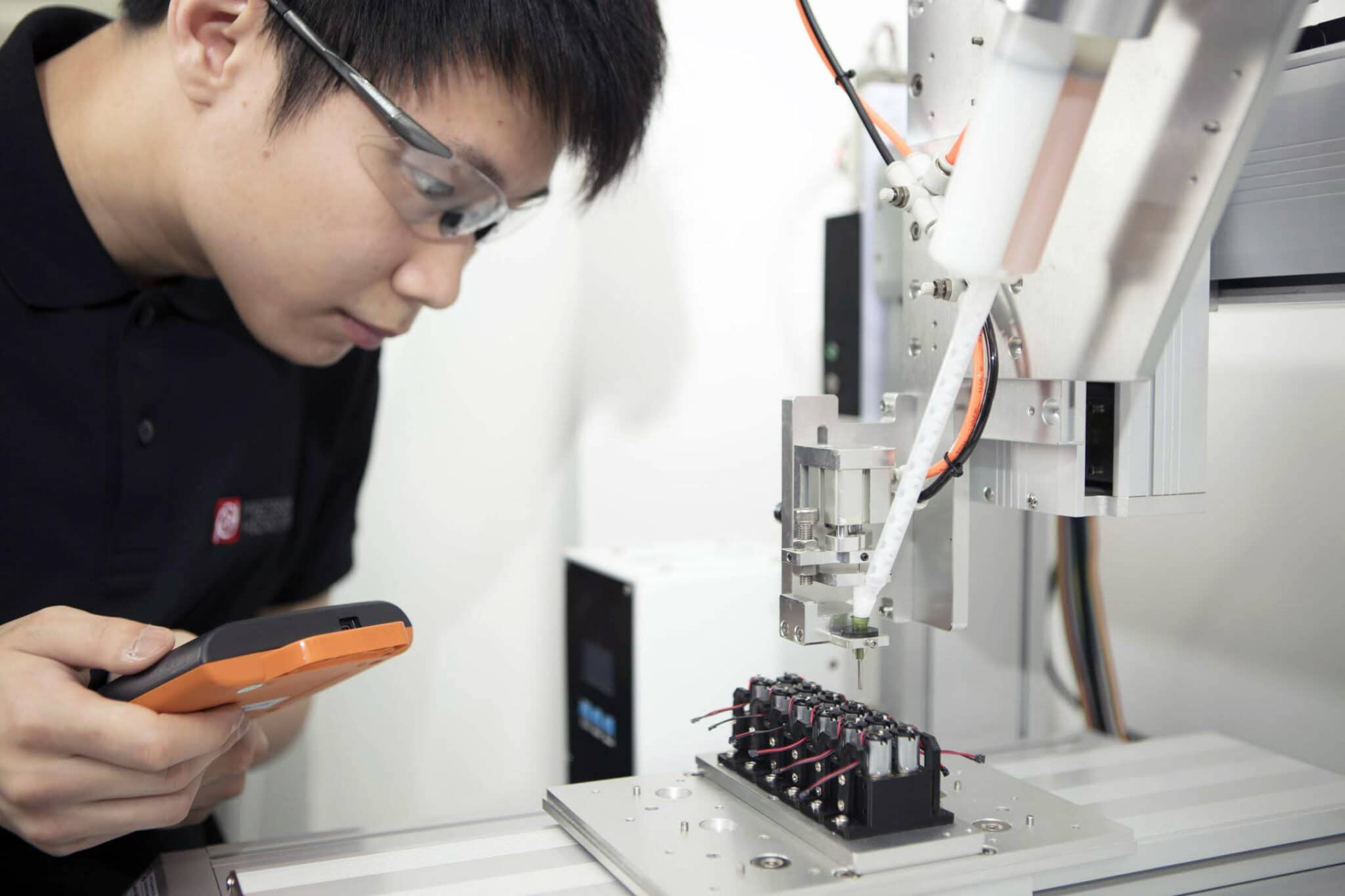 MORE THAN YOUR AVERAGE MOTOR SUPPLIER
Precision mechanisms
Innovative and optimised mechanism design for application.
LINEAR ACTUATOR DESIGN DETAILS
The performance and reliability of our linear actuators, is dependent on many design and engineering details. We present a birds-eye view of those in the hotspot explainer below:
Tip

The tip is the business end of the linear actuator, interacting with whatever needs to be moved or manipulated. Whether it's a linkage to an opening in the enclosure, or depressing a valve in a test assay. We offer off the shelf reference designs that can be quickly adapted to your application specifics.

Extension shaft

In the design shown, the extension shaft is made of brass and interacts directly with the stainless steel leadscrew that is turned by the gear motor. Pinned in place to prevent rotation, it translates rotary motion into a robust linear force.

It also interacts with the inside surfaces of the aluminium mounting enclosure which forms in effective a linear bearing surface to withstand lateral forces.

The 'stroke' of the linear actuator is how far the shaft will extend during operation, and is a flexible specification. We design it to meet your application requirements.

Encoder

The encoder counts how many rotations the motor has turned, which in turn (via the gearbox) determines how many revolutions of the internal lead screw have occurred.

We have designed linear actuators with incremental and absolute encoders. These feedback signals can be fed to an onboard motion controller, or back to the host application as is needed.

Integrated Controller

We offer many options for the provision for integrated 'onboard' electronics.

The simplest is routing of feedback signals from the encoders and sensors, via a connector.

The most advanced is an onboard motion controller that can precisely position the tip with a pre-set force, and provide exact velocity and acceleration control. These latter features will reduce wear on both the linear actuator and end application.

A common 'half-way house' is to integrate the motor drivers, current monitors and some sensor / encoder signal processing elements onto the linear actuator, and let the host application do the motion control.

Gearmotor

The gear motor provides the traction to turn the leadscrew and therefore move the extension shaft. There are a range of motor  and gearbox options for every application, optimised for price or longevity.

Mounting method

We offer two main mounting methods: integrated screw threads or mounting earlobes.

In addition to these we design robust brackets to enable the actuators to be placed in any orientation within in the application.

Home and limit sensors

Running a linear actuator into its physical end-stop is not a wise design paradigm. We therefore integrate home and or limit sensors into our linear actuators. These interact with either the onboard or application based motion controllers.

The home sensors offer a reliable datum point from which all positioning can be referenced, and the limit sensors offer safety from running the extension shaft into it's physical end-stop.

Click on the blue dots to expand!

Learn more about the features and design considerations that went into the development of this mechanism.
Application case studies
Our customised linear actuators have recently been used on two very high value projects, both within the medical sector.
DNA sequencing machine
Our customer makes DNA sequencing machines in the price range of $250k each. Three very precise linear actuators work together to position an optical sampling sensor into focusing range within the instrument.
Case study | Our actuator
The precision required for this project, required a different actuation design to the leadscrew examples shown above. This required precision machining to very high standards – e.g. a circularity tolerance on one component of 4 microns!
The actuators for this project deliver a 3 micron positional accuracy with a total stroke of 650 microns. The actuator features two optical encoders – one for fast gross approximation, and another for very fine positional tuning plus a zero datum positional sensor.
Each actuator is searialised and individually performance calibrated prior to dispatch.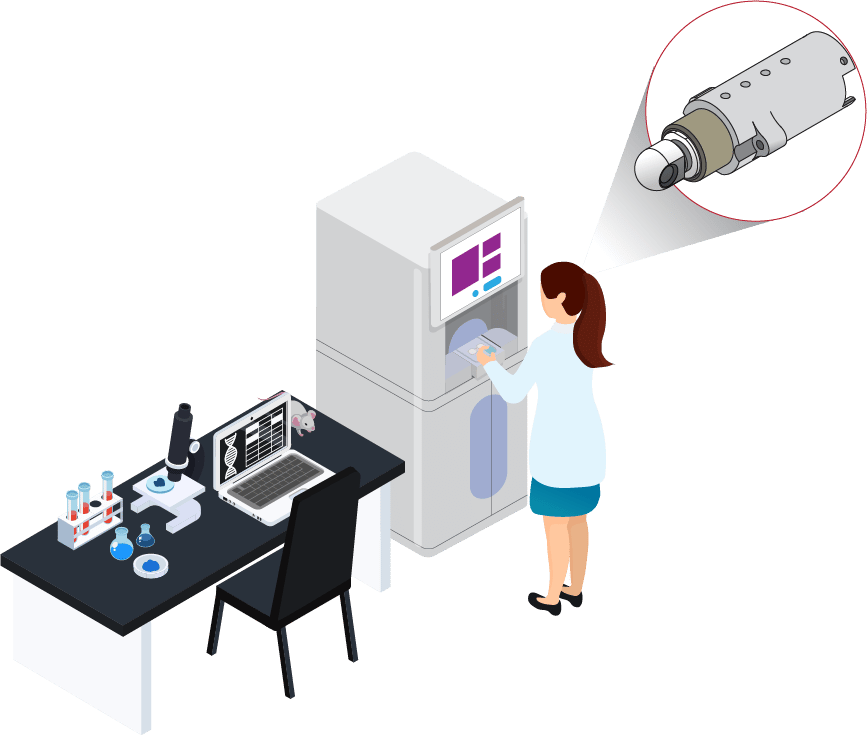 ---
PCR diagnostics machine
Our customer makes benchtop PCR testing machines in the price range of $10k each. Seventeen lead screw linear actuators are built into each machine, to open and close valves on a test cartridge / assay.
The project was delivered to a very tight timeline. Just 10 months from initial call to first production actuators!
Case study | Our actuator
The key requirements for this project were a robust and cost effective actuator with a 10mm stroke delivering a maximum 45N of force.
The encoder was of a magnetic type leading to a positional accuracy of 0.8 microns per encoder count. This yielded a repeatable accuracy of ~25 microns with the onboard motion controller. The design included a zero datum home sensor, as well as limit sensors and a positional algorithm to soak-up mechanical backlash.
The customer interfaced these actuators to their host application via SPI connections to the host processor.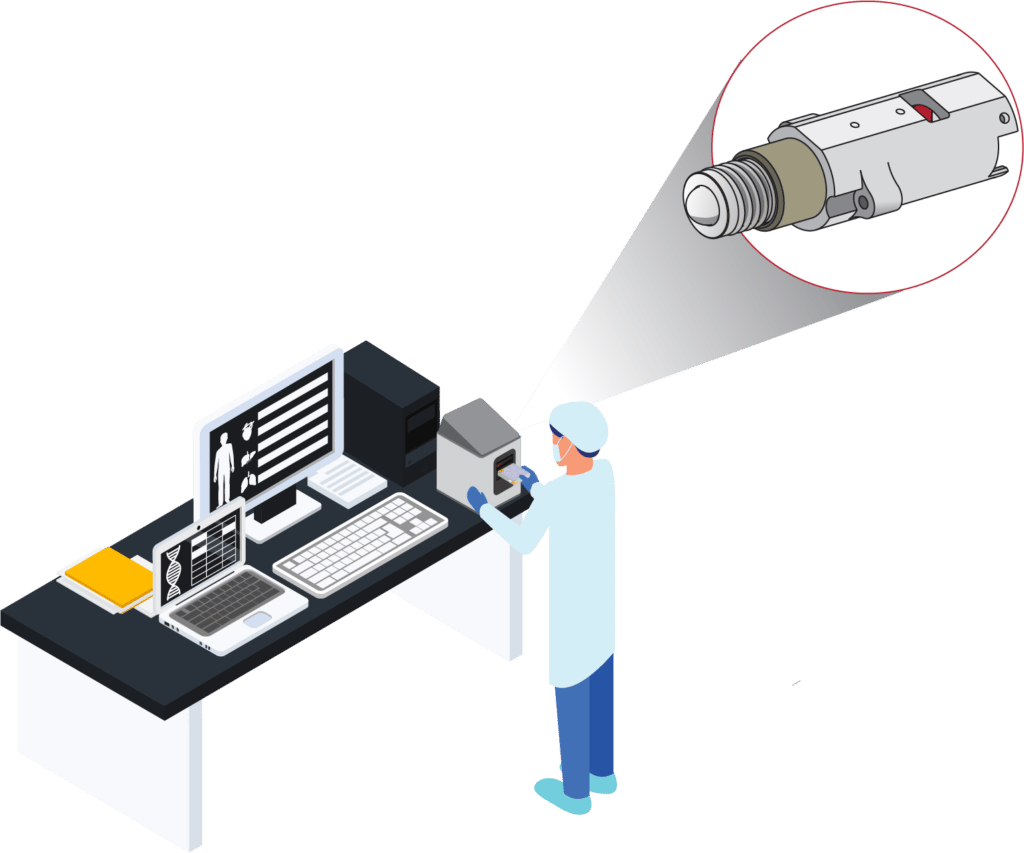 PRECISION PROCESSES
Our capabilities
We can support you through the whole journey from prototype to high volume cost-effective mass production: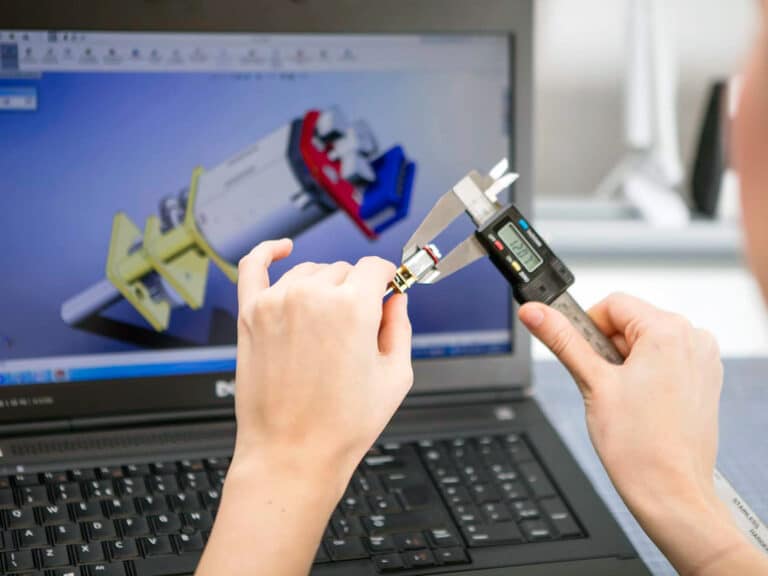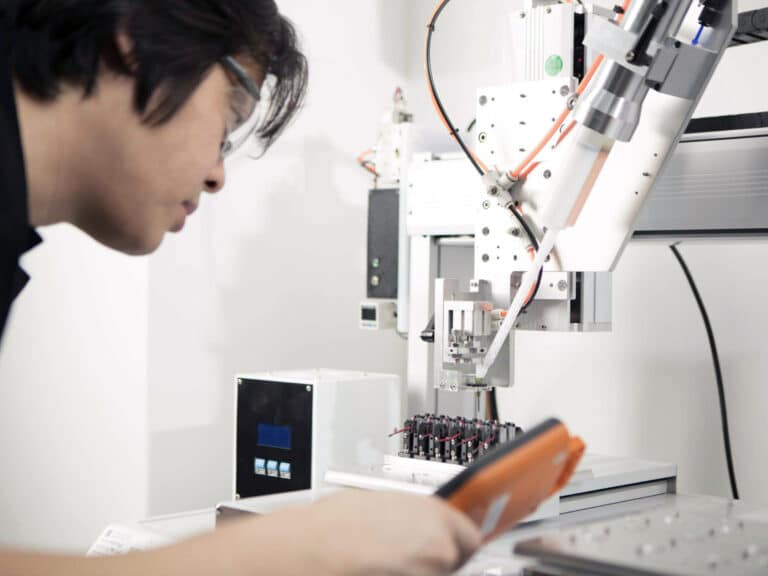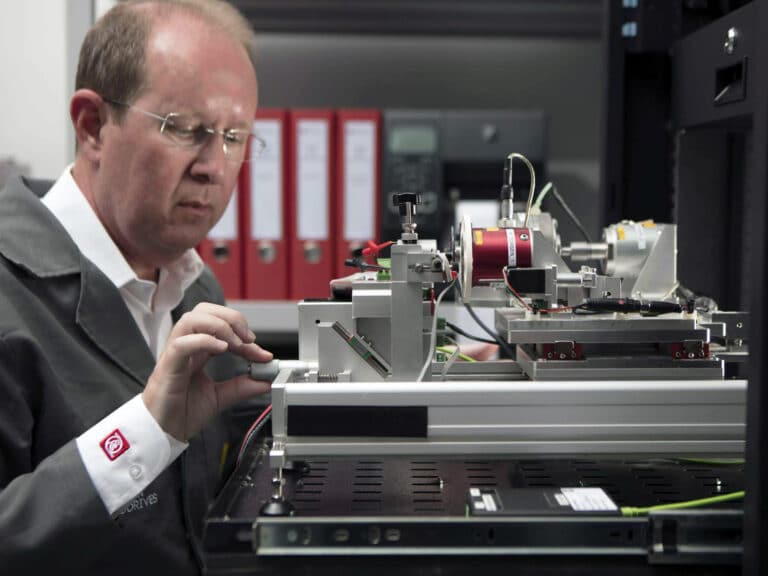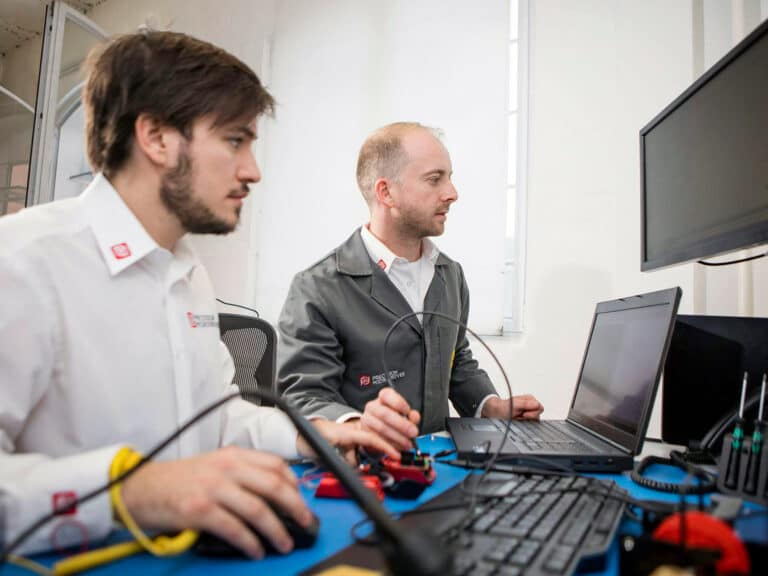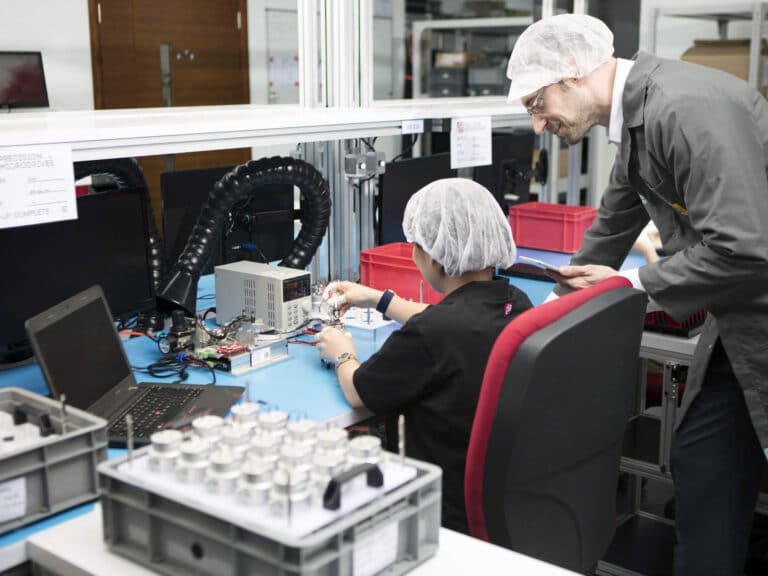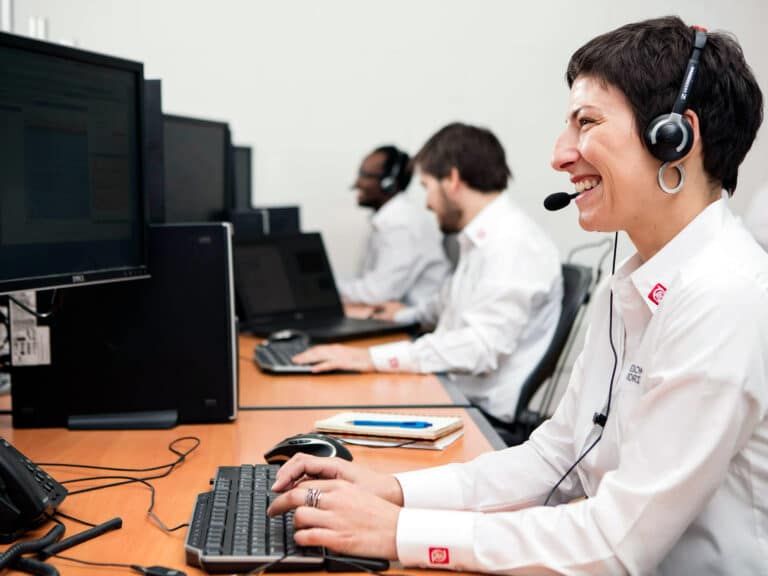 Designing motors and mechanisms for a wide range of industrial, medical, and consumer applications.
Our manufacturing lines are flexible. We support high volume and high value-add builds.
In-house designed dynameters are used to validate every sample and production batch made.
Delivering industry leading consistency and support through your product life-cycle.
Delivering your parts, on time and to your exact specification.
ISO 9001:2015 Motor designer and manufacturer of vibration motors, DC motors, gear motors and custom mechanisms.
Discover more
Resources and guides
Discover our product application notes, design guides, news and case studies.
DC motor case studies
Explore our collection of case studies, examples of our products in a range of applications.
Precision Microdrives
Whether you need a motor component, or a fully validated and tested complex mechanism – we're here to help. Find out more about our company.