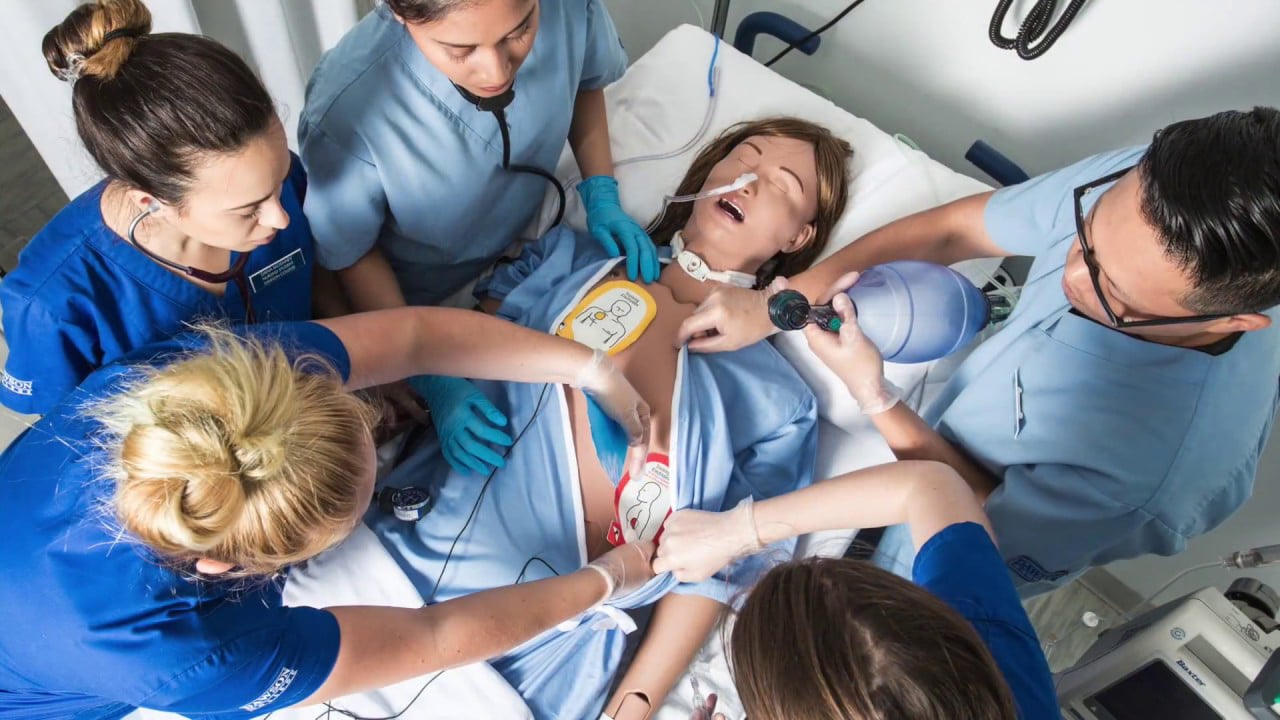 Case study
Medical patient simulator
Patient simulator for first-aid cardiac arrest training.
Precision vibration motor to haptic simulate 'heartbeat'.
Precision motor with CNC enclosure, and very robust EMI / EMC protection.
Challenge
Medical customer who had very specific requirements on quality and product performance.
They wanted to add haptic feedback to their 'medical dummies', to simulate the feeling of a patient's heartbeat.
They were seeking a reliable manufacturing partner with rigorous design, validation, testing and quality procedures.
Precision Microdrives was asked to progress a prototype design using a custom vibration motor, and prepare the design for mass production.
Solution
A bespoke vibration motor with a custom winding tuned to operate at a specific speed (frequency).
Provided the necessary torque to reach operating speed for an unusually large eccentric mass within 400mS.
A CNC machined brass weight and aluminum enclosure with internal harmonics dampening.
PCB backpack and wireset, that contained very high performance EMI / EMC filters, to prevent disruption to medical equipment in a hospital environment.
Results
Powerful

and realistic patient simulation now adopted world-wide.
Successfully managed our client's risk with verified and reliable technology.
Carefully optimised for in-house manufacturing by in-house design-for-manufacturing teams.
Carton packing arrangement designed to optimise air freight shipping charges.
---
Project scope
Haptic feedback solution to simulate heartbeat in CPR training 'dummy'
Haptics is often associated with touchscreens, but in this application, our customer introduced haptic feedback with a very different goal – to simulate the feeling of a patient's heartbeat! Our customer is a medical devices company with high expectations, and strict requirements on quality consistency and product performance. We were asked to progress a prototype that they had developed, design in a suitable vibration motor, and prepare the assembly suitable for mass production.
The customer had the budget, volume and quality needs to justify the use of automated CNC manufacturing processes for several major components. Vibration resonance harmonics were an issue, requiring the addition of dampening inside the enclosure.
They also specified tight EMC interference limits, to avoid impacting nearby medical equipment. The complete unit also had to be IP rated requiring a suitable enclosure sealing method. Finally, we added a twisted pair wire-set and a Molex connector.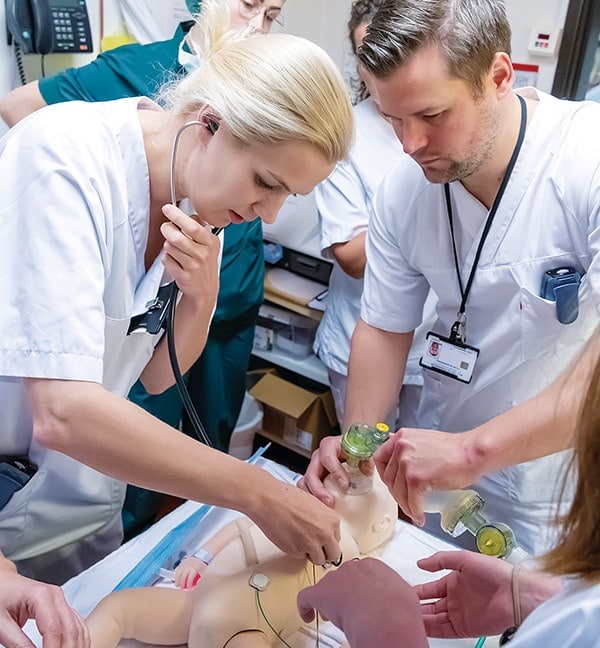 ---
STAGE 1
Designing for application
We designed the vibration motor with a custom winding to provide the necessary torque to drive the unusually large eccentric mass.
To generate the vibration G-forces for an accurate heartbeat simulation we optimised the motor windings and mass weight, which was then CNC machined in brass.
We added a PCB backpack for the motor onto which the high performance EMI filters were fitted.
The customer mapped out the envelope of the vibrating assembly so it could fit into the end product.
STAGE 2
Technical specifications
The enclosure was machined from aluminium alloy, with a carefully designed set of hooks to locate the assembly into the final application.
The split enclosure is held together by an integrated thread and IP67 sealed, with a silicon washer and suitable tightening torque.
The thread was introduced as part of the design for manufacture process making manufacturing more efficient and consistent.
STAGE 3
Precision manufacturing
We manufactured a large number of jigs and fixtures to aid assembly on our lines. We also built an end of line tester to ensure the vibration frequency and amplitude was optimal.
We understood our customer's challenges and provided an effective solution to a very high standard, whilst reducing their risk.
We optimised the shipping for the customer, before they asked, by designing a carton packing arrangement suitable for air freight.
---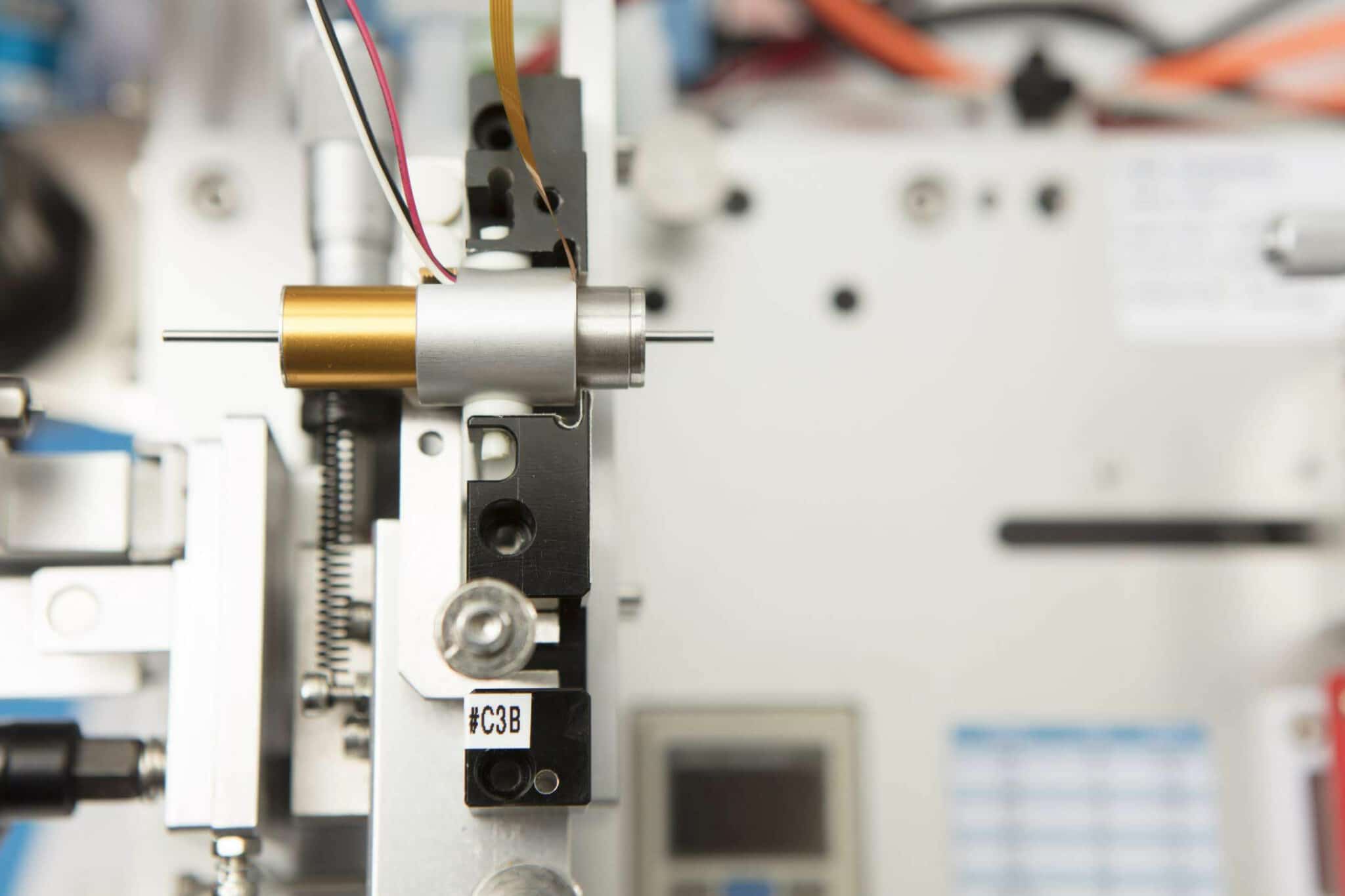 MORE THAN YOUR AVERAGE MOTOR SUPPLIER
We manage your risk
We manage your risk through optimised design and rigorous testing, protecting your application and intellectual property, fulfilling your performance requirements whilst reducing your lifecycle costs.
MOTORS & MECHANISMS
Precision products
From off the shelf motor components to fully validated and tested complex mechanisms, choose a motor and mechanism partner you can trust.
Discover more
Resources and guides
Discover our product application notes, design guides, news and case studies
Industries we serve
At Precision Microdrives we design and manufacture customised electric motors and mechanisms across a number of industries.
About PMD
Whether you need a motor component, or a fully validated and tested complex mechanism – we're here to help.